.
OncoDNA wins Biotech Award
OncoDNA wins the Biotech Award of Deloitte's 2020 Technology Fast50 competition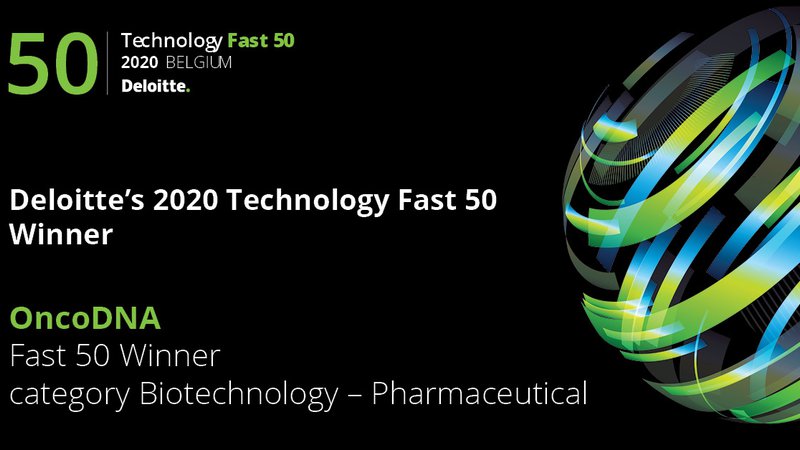 Gosselies, 27th November 2020 – Already celebrated by Deloitte's Technology Fast50 in 2015 and 2018, OncoDNA is thrilled to announce that it has received this year's award in the biotechnology and pharmaceutical category. Deloitte's Technology Fast50 award recognizes the success story of a Belgian start-up that strives for international expansion.
"Winning the award multiple times is very rare. As each year, the challenge to grow our turnover is more and more difficult. We are proud to have won the 2020 award and deeply grateful to Deloitte. The Fast50 award recognizes our continuous efforts. It motivates our teams to become the global leader in oncology", comments Jean-Pol Detiffe, Founder of OncoDNA.
Deloitte Belgium unveiled the winners of its Fast50 competition at the Award Ceremony on 26 November 2020. The competition rewarded the 50 fastest growing and innovative technology companies headquartered and founded in Belgium. Back in 2015, OncoDNA ranked as the "Most Disruptive Innovator" in the Rising Star category, before being claimed winner of the Healthcare & Life Sciences category in 2018.
"To date, OncoDNA has helped more than 20,000 patients worldwide. Our strength lies in the combination of our solutions. We not only perform complete analyses on a patient's tumour samples, but we also provide the oncologist with a detailed report to determine the most efficient treatment at the earliest", adds Jean-Pol Detiffe.
Over the last four years, OncoDNA has showed an outstanding sales growth of more than 180%. Despite the coronavirus health crisis, this year has opened new doors to a bright future for the biotech company. The year 2020 has also opened new doors to a bright future for the biotech company. Mid-November, OncoDNA announced the success of its friendly takeover bid of IntegraGen, the French leader in DNA sequencing. This success promises to double the size of the company and triple its turnover.
About OncoDNA
OncoDNA is an oncology-focused healthcare technology company that combines advanced testing of all clinically relevant cancer biomarkers from both solid and liquid biopsies with a proprietary cancer treatment knowledge database called OncoKDO™ which continuously 'learns' from cutting-edge, validated, scientific and medical advances. This one-stop-shop analysis and interpretation service gives oncologists actionable results to enable the selection of treatments tailored to the individual patient's cancer profile.
For laboratories worldwide with NGS facilities, OncoDNA provides them with state-of-the-art interpretation software to improve their oncology-oriented analyses routine work. The software OncoKDM is a web-based tool that processes oncology raw NGS data to turn data into clinical insight such as treatment options or clinical trials.
OncoDNA also works in collaboration with the biopharma industry to develop and deliver the treatments of tomorrow by assisting with design, enrolment and assessment of clinical trials as well as increasing access to approved precision medicines.
The company is based in Gosselies, Belgium, employs approx. 50 employees in four countries, works with an international network of 35 distributors covering approx. 50 countries and is collaborating with a sub-contracted laboratory of 300 collaborators.
Media contact
Fiona Demol
Head of Marketing at OncoDNA
Email: f.demol@oncodna.com
Share this